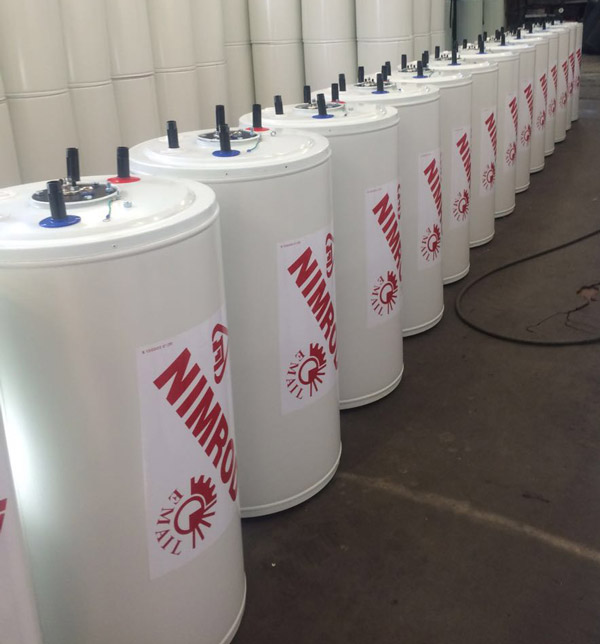 Who we are.
The Nimrod plant is the only industry in Israel that produces most of the parts of its solar and electric boilers. Nimrod is considered one of the largest factories in its field in Israel.
Hundreds of thousands of water heating systems made by "Nimrod" that have been operating at full output for many years all over Israel are testimony to the great trust that the public has learned to place in the company's products.
Nimrod factories are leading the field in Israel, with a glorious tradition of more than 53 years of production and service.
The strict adherence to the quality of the components and to faithful professional service, represent the vision of the founding family, which still manages the company with full vigor and care.
The Nimrod factories, located in Rishon Lezion and Bat Yam, cover an area of 7,000 square meters.
The distribution centers in Rishon LeZion, Haifa, Jerusalem, Beer Sheva and a large list of branches throughout Israel ensure fast delivery and professional service to every locality in the country.
Nimrod Factory operates 6 main departments:
Research and development department, production department, quality control department, Israel sales department, service department and export department.
Everything to provide the customer with the best product and service.
Factory managers and employees make every effort to ensure that the customer receives the best boiler.
A boiler that will serve him faithfully for years, without mishaps and without hearing the sentence: "The hot water is over."
Nimrod is under the constant supervision of the Standards Institute and all its products bear an Israeli standard mark, a safety mark for drinking water quality, and a standard 9001 for the quality management system.
Nimrod is the only factory in Israel that, in addition to the Israeli standard, is certified to the Spanish, Portuguese, USA, South African, Kazakhstan and Australian Water Mark standard (one of the strictest standards in the field of solar energy).
The company's customers include: Israel Military Industry, Israel Aerospace Industry, the Ministry of Defense, the Electricity Corporation, Amidar, Amigur, the Jewish Agency, Halamish, Naamat, Ariel University, Home Center, Ace and leading contractors, large companies and hundreds of thousands of Israeli residents.
The company also exports to 29 countries around the world.
Nimrod's factories produce solar boilers, electric boilers and boilers with heat exchangers
For standing, lying and hanging installation – and in a selection of sizes from 30 to 300 liters.
The factory also produces a variety of collectors with iron or copper pipes soldered using one of the most advanced automatic laser machines in the world.
Nimrod's durable high-quality water heaters are designed to withstand harsh climatic conditions and ensure a continuous supply of hot water 24 hours a day, summer and winter.
This, while saving considerable electricity and maintenance expenses.
"the Nimrod products, No. 1 in hot water, are the best value for money"
Quality and service with no competition at fair prices